December 14th, 2012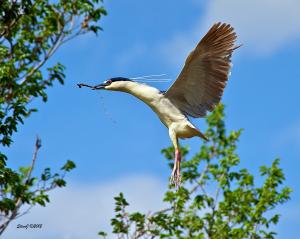 I enjoy taking photos of birds and especially birds in flight. This past year I experimented with many settings on my Nikon D700 DSLR. I had been shooting shutter priority. I had my ISO set and let the camera pick the aperture. My photos looked pretty good but I knew I could do better. One night I was in bed thinking and I thought "What if" I set the ISO at auto and then set my D700 for manual. The next day I tried it out. I started at about 1/1250th on the shutter setting. I could usually set the aperture anywhere from about f/5.6 to f/11. I was using my 80-400mm VR Nikon Lens. Again some photos were okay but many were blurred. I kept setting my shutter speed faster. One day I went out to Denver's City Park with my camera set at 1/2500th. At Ferril Island, the Cormorants, Night Herons and Snowy Egrets were nesting. I must have somehow moved the shutter to 1/4000. When I got home, I started viewing my photos on my Apple iMac using Apple's Aperture Software. I quickly noticed a big change in the clarity of my photos. They were suddenly sharper than they ever were before.

My settings on the Black Crowned Night Heron were f/7.1, 1/4000th, ISO 640 and ev -0.33. One of the nice benefits of a full frame DSLR such as the D700 is that it can take clear shots at much higher ISO's. As long as I have good light, I get great in-flight photos now. I will drop down to 1/3200 and 1/2500 when lighting conditions are not so great. I'll also drop the Aperture down to f/5.6 to help get better light to the sensor.

What are your thoughts about in-flight photography of birds?