Collectioins
My favorite photos are in my Collections. I enjoy many endeavors including, Landscape, Wildlife, Night Photography, Nature and more.
About Stephen Johnson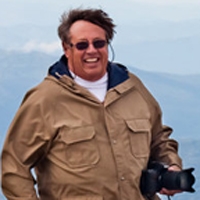 For more organized viewing please CLICK the GALLERIES LINK Above.

I am a Colorado Native as were my parents and grandparents. My first camera was a Kodak Brownie. I still have albums filled with memories of my youth taken with my Kodak. In the mid 1970's, I got my first SLR 35mm Camera. I had an Olympus OM-1 and later on an OM-2. At one time I had a color lab in my basement. It was a fun hobby but very expensive and the results were questionable. In about 2000, I got a call from Kodak wanting to know if I liked photography and if I had a computer. I was chosen to be part of a digital camera focus group. This was my first foray into digital photography. Since then I have graduated from point and shoot cameras to DSLR's. My first DSLR was a Nikon D80 and then a few years ago I upgraded to a Nikon D700. I enjoy outdoor scenic and wildlife photography the most though I do shoot some weddings, portraits and senior pictures. My work has been and continues to be displayed in several Art Galleries in the Denver, Colorado area. I also set up my own vendor booth at several Art Festivals during the summer months.

My profile picture was taken near the top of Mount Evans, Colorado in early July. There was fresh snow on the ground from an overnight storm. And as you can see, the wind was blowing quite hard.